A solar charge controller is used in the solar power system, to regulate the power from the solar cells to charge the battery and supply the load. The charge controller protects the battery from overcharging or deep discharging, to ensure the battery safety, increase the battery lifespan and improve the solar system performance.
Inverter.com offers you two kinds of solar charge controllers, Maximum Power Point Tracking (MPPT) controllers and Pulse Width Modulation (PWM) controllers. In addition, the all-in-one unit - solar inverter with MPPT charge controller is also available for off-grid solar system. The PWM solar charge controllers have 10 Amp, 20 Amp...60 Amp available with low price and high reliability, suitable for small systems. The MPPT solar charge controllers come with 20A, 30A to 60A with high efficiency and long service life, a best choice to optimize your solar energy. The 700W to 6000W solar inverters with built-in MPPT charge controller perfoms both inverter and charge controller function in one device, a cost-effective solution for off-grid PV system. Find a right one here for utilizing your solar panel.
SKU: ATO-PWM-50
Low price 50 Amp auto PWM solar charge controller on sale, LCD display, intelligent pwm charge mode, automatic identification of 12V/24V/48V, it can display current, voltage, temperature, power, light control time, etc.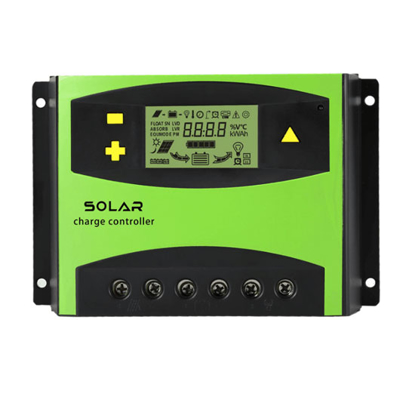 SKU: ATO-PWM-60
Automatic PWM solar charge controller rated current 60A, auto switch DC 12V/24V/48V, PWM charge controller, fast charging time, with overvoltage, short circuit, overload protection, suitable for small solar energy system.