Solar street lights can provide an eco-friendly solution for the community. Once you have solar street lights installed, you won't have to rely on grid power. Plus, it will bring about positive social change. If the long-term benefits are considered, the price of solar street lights is relatively low.
What is a solar street light?
Solar street lights are street lights powered by sunlight. Solar street lights use solar panels. Solar panels use sunlight as an alternative source of energy. Solar panels are mounted on poles or lighting structures. These panels charge rechargeable batteries that power street lights at night.

In the current situation, solar street lights are well designed to serve uninterruptedly with minimal intervention. These lights are powered by built-in batteries. Solar street lights are considered cost-effective. Also, they don't harm your environment. The lights will illuminate streets and other public spaces without relying on the grid. Solar lights are highly appreciated for some advanced features. These are great for commercial and residential applications. They look impressive and last a long time without much maintenance.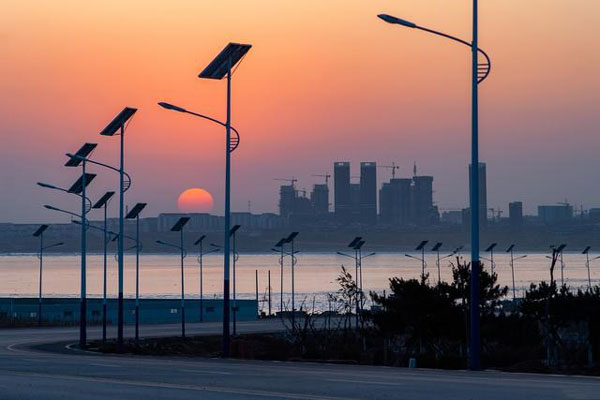 How do solar panels work in solar street lights?
Currently, we are using solar energy to power our equipment and our home or office. Solar street lights will do the same. The unparalleled quality and high-efficiency ability of solar lights make them the best choice for outdoor use. Solar street lights can be installed in all public places.

Solar panel solutions for street lighting can be the best choice for gardens, parks, schools and other places. There are different types of solar street lights to choose from. They can be used for decoration, lighting and other purposes. By using solar street lights, users can promote sustainable energy and reduce pollution significantly.
As mentioned earlier, solar panels play a key role in solar street lights. Solar street lights have some components, including photovoltaic modules, controllers, GEL batteries, lithium batteries, and light poles.
Solar panels are easy to install on street lights and easy to transport. During the day, solar panels store solar energy in batteries. They take energy and transfer it to the battery. At night, motion sensors will work to control the lights. It will start working automatically.
What are the benefits of solar street lights?
Green alternative

In traditional lighting, people rely on the grid for energy. During a power outage, there will be no light. However, sunlight is everywhere, and many parts of the world have plenty of it. Sunlight is the world's leading renewable energy source. The upfront cost may be a little more. However, once installed, the cost is reduced. In the current situation, solar energy is considered to be the cheapest source of energy.
Since it has a built-in battery system, you can power it on the street when there is no sunlight. In addition, the batteries are recyclable and do not harm the environment.

Cost-effective solution
Solar street lights are cost-effective. There is not much difference between the installation of solar and grid systems. The key difference is that solar street lights do not have meters installed. Installing electricity meters adds to the final cost. Additionally, digging trenches for grid power increases installation costs.
Safe installation
When installing a grid system, some obstructions such as groundwater and root systems can cause interruptions. Power ditching will be a problem if there are a lot of obstacles. However, you will not encounter this problem when using solar street lights. Users only need to set up a pole where they want to install the street light and install the solar panel on the street light.
Maintenance free
Solar street lights are maintenance-free. They use photovoltaic cells, which greatly reduces maintenance requirements. During the day, the controller keeps the lights off. When the panels do not generate any charge during dark hours, the controller turns on the light. Plus, the battery has a five to seven year durability. Rainwater washes the solar panels. The shape of the solar panels also makes them maintenance-free.
No electricity bill
With solar street lights, there will be no electricity bills. Users will not have to pay monthly electricity bills. This will have different effects. You can save money by using energy without paying your monthly electricity bill.