A solar inverter is a power conversion device that converts direct current from a battery to alternating current. So, how to choose a solar inverter for home PV system?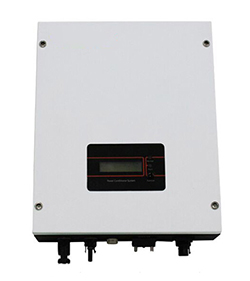 Equipped with reliable DC switch
The situation of the home PV system is complicated. If the components are short-circuited and grounded and the after-sales maintenance cannot be carried out immediately, it is likely to cause a fire or a safety accident. At this time, turn off the DC switch to prevent further escalation of the fault.
Reduce noise
Household solar inverters are installed in residential houses. If there is noise during operation, it will bring trouble to life. Its noise mostly comes from fans and inductors. An solar inverter with a fanless design can be selected to eliminate noise sources as much as possible. The inductor is filled with glue as a whole and placed in the aluminum case independently to reduce the current and vibration of the inductor.
Use LCD display
Choose a solar inverter with an LCD display to be able to query real-time power generation. By selecting the monitoring mode, you can query at any time and manage thousands or even tens of thousands of power stations in a unified manner. The two-way monitoring system can provide proactive services, including functions such as problem discovery, fault early warning, remote diagnosis of problems, and problem handling.
Factors leading to high power generation
The solar inverter is abnormal.
The efficiency of solar inverter. Including larger efficiency, weighted efficiency and MPPT efficiency. It is the weighted efficiency that has a greater impact on the power generation, because the solar inverter operates at less than rated power for the most time.
DC operating voltage range. The wider the voltage range, the earlier the start and the later stop. The longer the power generation time, the higher the power generation.
The output voltage range of the solar inverter should also be wide, preferably between 180-270V, and exceeding 270V will affect household appliances.