Electricity generated from the solar photovoltaic system is identical to electricity generated from the regular fossil fuels, and other renewable sources like electricity generated from wind, hydro, etc. The output voltage is pure and stable sine wave, and can be used in all aspects, like industrial usages, commercial usages, and residential usages.
During the daylight time in where the sun is shining, we can harvest solar electricity and use it directly to run our appliances and equipment rather than getting such electricity from the power grid, its free electricity, we do not pay for it!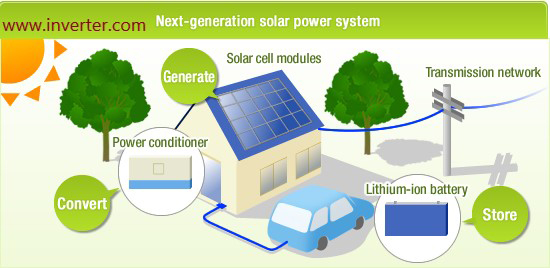 One of substantial financial saving we can get from solar photovoltaic system is to make what we called "load shift". It means to shift electrical power usage from night times to daylight times in where the sun is shining and the solar system generates such free electricity. We strongly recommend to run your high power equipment in day light time, like dish washer, clothes washer, pool pump, dryers, water heater, electric heater, electric cars, etc. By this way you can make big financial saving and avoid paying high electricity bill to the electric utility. Also, it is worth to pay your attention to using timer to achieve smoothly operation of such equipment to daylight hours, it will be very helpful way to avoid the forgetting.
To maximize benefits from solar photovoltaic system, we can store the excess electricity generated in day light times in lithium batteries and use it on night times, so we may need to install extra solar panels power inverter to our solar system for such purpose. The only disadvantages for such approach is that such batteries will add substantial capital costs on our solar photovoltaic system price, especially if you use high quality and reliable brands/types, but no worries as batteries technology is advancing day after day, and will become cheaper and cost effective soon, that will make using solar batteries is an economic investment in near future. 
Actually what we have aforementioned is related to how to benefits from solar energy by constructing photovoltaic system and convert sun power directly to electricity, but this is just one benefit, and there are much more! The sun the source of our life on the earth, and we can make use of it for many other applications in our daily life, like water heating system, space heating systems, ventilation system using solar fans, roads solar lights, solar charger for tablets and phones, and a solar power vehicle which is the future.