Solar mounting structure is an important part of the solar system, it is used to install the solar array on our roofs, and it uses different kinds of frames, and railings. Most of mounting structure systems are made of Aluminum with stainless steel hardware, and designed to integrate with different kinds/power capacities (weights) of solar panels and to integrate as well with different types of roofs. 
The solar mounting structure mainly consists of aluminum rails with many clamps to connect the solar panels to, and brackets to install the rails to our roof.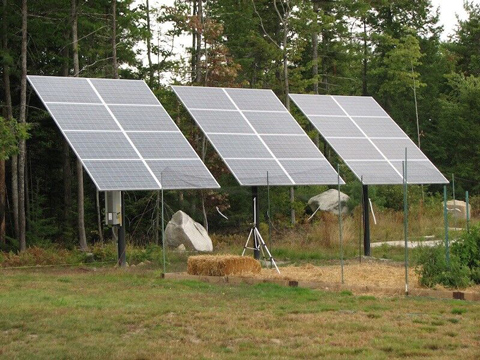 There are 3 features of high quality solar mounting systems, and here they are;
They use a high grade of stainless steel and aluminum materials, hence the result is low weights on the roof, and anti-corrosion materials over the long life time of the solar system which reaches 25years.  
They have effective design, hence the result is quick installation time, and that save costs and reduce solar system overall installation time.
Very strong anchoring points, so more reliability and stability of the mounting system, especially in windy days.
Consequently, when you spend considerable amount of money in purchasing a high quality solar mounting structure, you honestly do the right thing, because purchasing high quality solar panels along with high quality mounting structure are the key factors of longer life span solar system, and the high reliability.
When buying the solar mounting system, you have to take care about the warranty period, because it is the first real index of its quality, and you have to make sure that its warranty period is matching or exceeding the solar panels warranty period.
The solar mounting system can be installed on any building type, whether its residential or commercial or even industrial, and usually the roof installation can be one of two types;
Standard rooftop structure.
Elevated rooftop structure.
Some people who have sufficient spaces/areas in their property perfectly subjected to the sun light most of the day prefer to install the solar system on the ground, so in that case, the mounting structure will differ from others of roof structure. Some other people converts their rooftop mounting structure to ground structures, and off course in such case, they need to make some changes in their existing structure to be able to install on the ground.