In today's world of diminishing fossil fuels and ecological damage, the exploration and utilization of renewable energy such as solar energy has become a hot topic of development. Solar inverters and hybrid inverters are widely used to convert photovoltaic solar energy into electricity. Even some hybrid solar inverters use a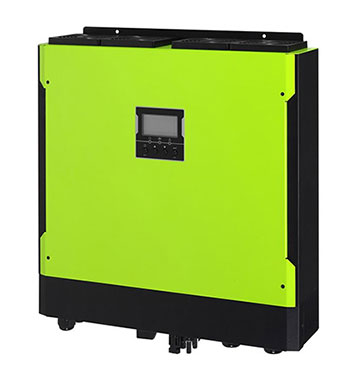 combination of solar and wind energy, or off-grid and on-grid. Hybrid PV inverter has the advantages of both on-grid and off-grid inverter. It can work in three modes: on-grid, off-grid, and shutdown. It can automatically determine the off-grid/on-grid mode, connect to the smart grid, and achieve peak-shaving and valley-filling. Equipped with energy storage, the hybrid solar inverter can provide users with electricity in normal, abnormal and nighttime grid conditions.
The hybrid solar inverter is an upgraded version of the solar inverter. It contains the functions of a solar inverter, which converts DC to AC. The hybrid inverter has a conversion efficiency of 92% and integrates a charge controller, an energy storage inverter and a photovoltaic inverter.
The hybrid solar inverters can be used in home rooftop photovoltaic plants or in solar power supply systems in remote mountainous areas. They provide a stable AC power supply for the load and can automatically switch operating states depending on the state of the grid. Thus, the application of the inverter is greatly increased, and the reliability of the load power supply is improved.
Hybrid solar inverters are provided on inverter.com online store which with rated power 3kW to 10kW. The price list of hybrid solar inverters is in the table below, if you want to choose and purchase a specific product, please visit our product's page.
| | | | | |
| --- | --- | --- | --- | --- |
| Rated Power | SKU | Price | Input Voltage | Output Voltage |
| 3000W | ATO-HSI-3kW | $1,562.31 | AC 170V-280V or DC 360V | AC 208/220/230/240V |
| 5000W | ATO-HSI-5kW | $2,270.95 | AC 170V-280V or DC 720V | AC 230V |
| 5500W | ATO-HSI-5.5kW | $3,845.85 | AC 170V-280V or DC 360V | AC 230V |
| 10000W | ATO-HSI-10kW | $5,648.56 | AC 170V-280V or DC 720V | AC 230V(P-N)-AC 400V(P-P) |
Note: The prices in the table are just for your reference. If you want a hybrid solar inverter that is not listed in the table, please feel free to contact us.