Off-grid solar inverters can work independently after leaving the grid, which is equivalent to an independent small grid. It is also similar to a voltage source, which mainly controls its own voltage. Off grid inverter can be loaded with resistance and capacitance, inductive motor and other loads. It has quick response, anti-interference, strong adaptability and practicability features, is the preferred power supply for power failure and outdoor power supply.
Off-grid inverters generally need batteries, because photovoltaic power generation is unstable, and the load is unstable. Batteries are needed to balance energy. When photovoltaic power generation is larger than load, excess energy charges the battery. When photovoltaic power generation is smaller than load, insufficient energy is provided by the battery. Photovoltaic off-grid inverters are suitable for power systems, communication systems, railway systems, shipping, hospitals, shopping malls, schools, outdoors and other places. They can be recharged by supplementary electricity from the market. They can be set up as wind-photovoltaic preferred backup, or as wind-photovoltaic preferred backup.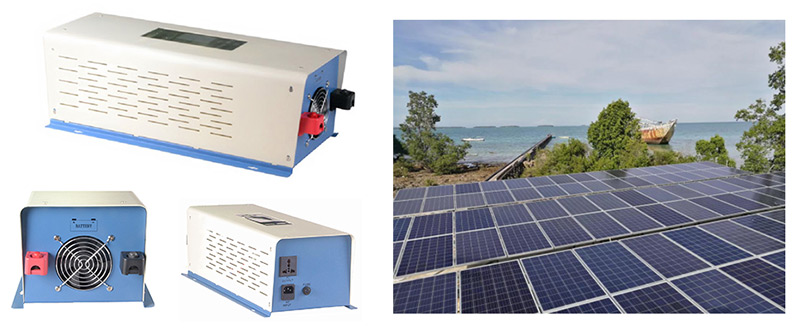 Invreter.com online store provides two kinds of off grid solar inverters: Multi-function inverter/ charger with rated power 700W to 6000W and three phase pure sine wave inverter with high power 8kW to 200kW. Cheak the price list as shown below and choose the right off grid inverter to meet your PV system.
Off grid solar inverter price list
Rated Power
SKU
Price
Input Voltage
Output Voltage
700 Watt
ATO-OGI-700
461.54 USD
10.5-15V/ 21-30V DC
110V/ 120V/ 220V/ 230V/ 240V AC
1000 Watt
ATO-OGI-1000
483.78 USD
1500 Watt
ATO-OGI-1500
538.46 USD
21-30V/ 42-60V DC
2000 Watt
ATO-OGI-2000
 676.15 USD
3000 Watt
ATO-OGI-3000
 792.07 USD
4000 Watt
ATO-OGI-4000
1,142.88 USD
42-60V DC
5000 Watt
ATO-OGI-5000
1,459.23 USD
42-60V/ 84-120V DC
6000 Watt
ATO-OGI-6000
1,520.77 USD
8kW
ATO-OGI-8kW
4,236.55 USD
48V/ 72V/ 96V DC (can be customized)
208V/ 220V/ 230V/ 240V/ 380V/ 400V/ 415V/ 460V/ 480V (can be customized)
10kW
ATO-OGI-10kW
4,622.89 USD
96V/ 108V/ 120V/ 192V DC (can be customized)
12kW
ATO-OGI-12kW
6,160.46 USD
15kW
ATO-OGI-15kW
7,545.08 USD
20kW
ATO-OGI-20kW
8,570.79 USD
30kW
ATO-OGI-30kW
11,486.15 USD
240V/ 288V/ 300V/ 480V DC (can be customized)
40kW
ATO-OGI-40kW
14,916.92 USD
50kW
ATO-OGI-50kW
 18,801.54 USD
80kW
ATO-OGI-80kW
31,443.08 USD
100kW
ATO-OGI-100kW
34,670.79 USD
200kW
ATO-OGI-200kW
58,916.92 USD
Note: The prices in the table are just for your reference. If you want to get the latest quotation, please contact us now. Generally, it's cheaper than the price in the table.